The Problem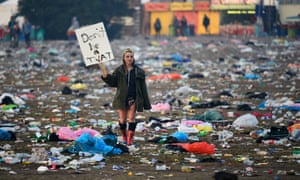 Festival season is in full swing and the hot topic of the day is the sheer amount of rubbish and waste left behind when these events are finished.  Big things like tents and camping chairs are often left behind, but the bulk of the waste as you can imagine consists of various types of packaging from food and drink.  Although many places do have a green ethos and strategies in place to reduce the waste left behind in the arenas, they are not really effective unless people pay attention to them and follow the rules properly.  For example, at a festival I went to last year, you pay £1 for a branded cup that you then take back to the bar and reuse all weekend.  Great idea in theory – reducing the amount of plastic cups and cans given out – but by the end of the weekend I still saw a lot of these cups simply thrown on the ground and forgotten about.  I personally brought my cup home as a souvenir 😀
The campsites themselves are a whole different matter – drink cans, disposable bbq's and food packaging everywhere! I absolutely love festivals and always have a fantastic time,  but I would love the party goers to start being more responsible and cleaning up after themselves – then I could enjoy myself even more knowing that our impact on the environment is minimal.
So what can we do?
To be honest the solution to this problem is really a case of everyone caring enough about it to try and reduce waste and recycle what we can.  Yes, some of the products you source as alternatives may be more expensive but in general they're going to be reusable and last a longer than single use plastics (think straws) so in the long run it actually works out better financially. Click on the link below to download your FREE Eco-Friendly Festival Packing List!
During the festival it would be great for everyone to clean up as you go along, thus reducing the workload when you leave as well.   Have a bin bag for non recyclables, and either take your recycling bags (if you have them in your area) or large reusable bags for things that can be recycled and take them home with you to pop in your household recycling.  If you're in a group then it's good to get everyone on board with your plan and you can share rather than having multiple bags with small amounts in them.
That's really about it! Not too difficult right? The basic idea is to leave the campsite exactly how it was when you arrived – take everything home with you and place any non recyclables in a bin bag to take to the waste bags area – sorted!
If everyone did this at festivals, not only would it be so much better for the environment, but it would make the whole experience a lot nicer for everyone involved.  Please share this far and wide and spread the word – let's get festivals cleaned up!
Click on the picture below to download your completely free ULTIMATE eco-friendly festival packing list to help you get started!